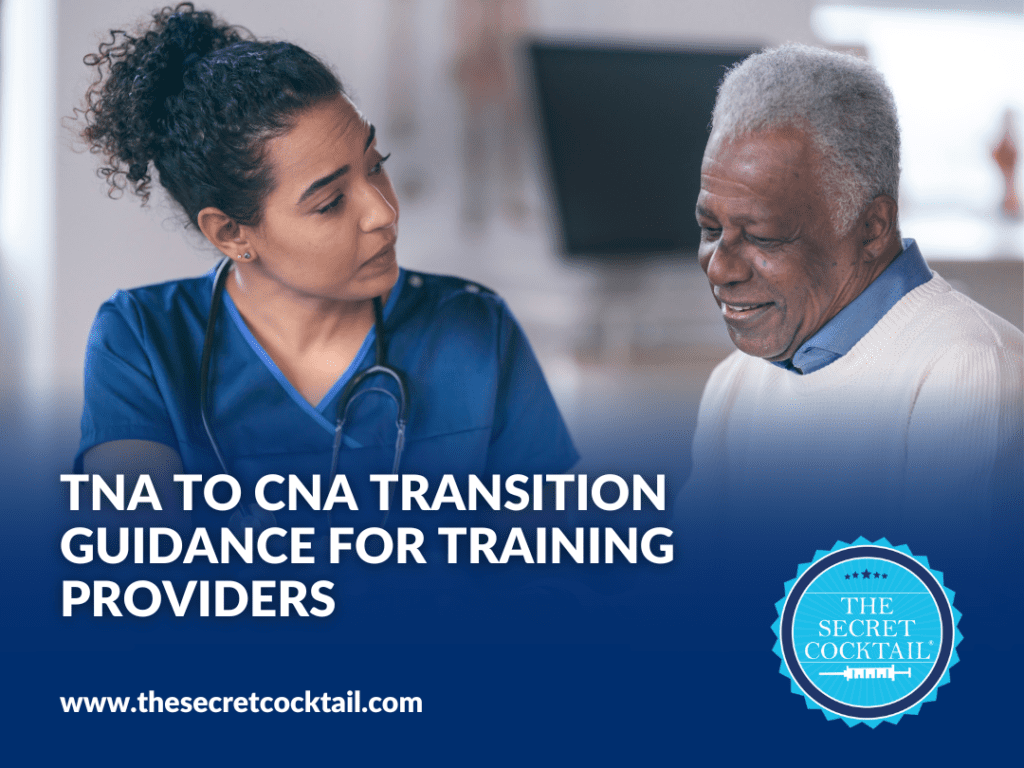 Law passed and to take effect June 6th, 2022
It was in March 2020 when the OBRA Mandated minimum 75-hour training requirement for nurse aides was voided in order to address the shortage of healthcare staff brought about by the coronavirus pandemic. This April 7, 2022, the Centers for Medicare and Medicaid Services stated that the waiver option that brought about the Temporary Nurse Aides and Personal Care Aides would expire at the federal level on June 6 of this year.
While there may be some differences in the regulations depending on the state location, TNAs and PCAs are given until October 6, 2022 to finish the needed training in order to pass the state exam and get certified. What does this mean for healthcare school owners and nurse aide training providers?
According to the American Health Care Association, there are almost 300,000 TNA's who took their class alone and need to be trained as a CNA. This is only their course and does not include other courses that were geared towards TNA's. It is important that TNAs transition to becoming CNAs, not only to keep their jobs but to help care for our vulnerable population of those in need. That is where you as a training school/ nurse aide training program comes in to save the day.
How CNA Training Programs can help
Each state has its own unique set of rules regarding the use of TNAs and PCAs. For states that allow the use of PCAs and TNAs, some of them are amenable to modified training, some would still require the completion of a Nurse Aide Training Program, while others may let them just take the license exam even without taking the NATP. Now is the time to find out what your state is google to do! Connect with nursing homes and help them drudge the gap by training their TNAs at your school!
For states that have not yet approved the use of TNAs and PCAs, all the candidates must undergo the NATP. Becoming a NAPT provider takes time, about 6 months to be exact, so these skilled care facilities/ LTC facilities do not have time to create their own programs. They need you to help them bridge the gap.
To find out if your state recognizes and approves the use of TNAs and PCAs, visit the Nurse Aide Registry or contact your local department of health or board of nursing. You can find your state's Nurse Aide Training Program approving body HERE.
There are several requirements that TNAs and PCAs must meet before they can be licensed in their chosen state. These include proof that they have completed the training course for either temporary nurse aide or personal care aide. Due to the waiver, there are only a minimum required hours that must be fulfilled. The free TNA course from the American Health Care Association offers both 8-hour and 16-hour courses. Many states may require TNA to complete an entire program, while other states may require them to only make up the remaining hours of education required to meet the state's required hour minimum.
Other prerequisites may include:
Documents proving the completion of other required training. These are usually dependent on the state.
Documents proving completion of on-the-job work experience. This must be under a state-licensed RN.
Proof of lab skills and competency training.
How are you going to help bridge the gap? Will you offer special programs based on your state's TNA bridge requirements? Will you connect with nursing homes to let them know you can offer this service to them? Will you be ready for the influx of TNA students to come? Will you have enough staff and resources? Get prepared now and be ready for October because people will wait until the last minute.
Contact us for support
This article was written by Victoria Randle MSN, NP-C, the owner of The Secret Cocktail®. We are a healthcare school consulting company. We help individuals create the healthcare school of their dreams while helping them save time and money in the process. We operate in all 50 states. For more info on getting a healthcare program started, please visit contact us at info@thesecretcocktail.com